yet another picture i stumbled across while flicking through my archive of photos.
this was about a yr and a half ago during summer in adelaide. angela managed to lock herself out, that blonde bimbo. and naturally, me being the smallest... as usual... i was designated the task of climbing through the laundry window, which the cats use as an alternate entry. *mew* there i was flashing my knickers in broad daylight. good thing i don't have knickers with pink love hearts or little teddy bears.
my mother took this photo while laughing her guts off.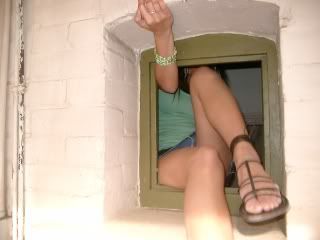 in return, i gave her the finger. we have a special relationship.