HAPPY BIRTHDAY GERARD CHUNG CHOK SHIN!!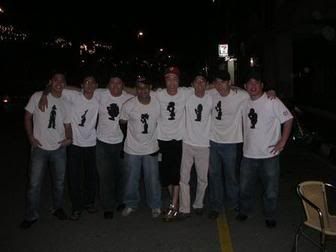 the usual suspects
G is one of the few treasures found in this dirty, corrupted world. an idealist at heart, he is always genuine and has everyone's best interests in mind. always eager to please, he will scour the state for something he knows you like or throws pleasant surprises on the unsuspecting.
he is something of a sentimentalist though he will not openly admit it. i have enjoyed many long chats with him about life, love and everything in between. G is my long kai buddy at odd hours of the morning. from 2am la-la eating sessions to random driving to unworldly places, driving to klang at 2am and waiting for bak kut teh stores to open at 6am and many other little adventures.
totally original, full of joy and more spontaneous than a leaping frog. but i hear he's spending his birthday on the toilet seat due to diarrhea.
lousy la you, G. you've only been in the states for a few months and your stomach tolerance has already died.
FAIL!!